Waterproof hardwood flooring is real, so if you've been wanting that authentic hardwood floor in your bathroom to compliment the rest of the floors in your home, now manufacturers of hardwood flooring have applied waterproof coatings to otherwise normal hardwood. It's the same process that creates other types of waterproof floors. True waterproof hardwood floors are made with engineered hardwood. Engineered hardwood floors are in many ways superior to solid wood, and always superior in humid climates. Most retailers in Florida do not even sell solid hardwood floors; it's just not a good fit in humid regions of the country, often buckling and swelling with humidity. Click here to learn more
---
Nothing can add beauty and warmth to your home like quality hardwood flooring. Available in many different sizes, qualities, and species, it's easy to get confused while shopping. At Giant Don's Flooring America we can help you through the process of selecting exactly the right hardwood floor for your home. Our hardwood flooring stores in Anchorage and Wasilla provide you the best flooring product available.
There are many reasons hardwood flooring is such a great choice for your home. Wood flooring may be the last flooring you ever buy. Worry-free maintenance and a lifetime warranty on all hardwood floors will give you confidence that your new wood flooring will provide you years of beauty. Hardwood floors are also the best choice for those with allergies. Synthetic carpet fibers trap dust, pollen, pet dander and other allergens, and they can be difficult to clean. Wood flooring is easy to maintain and provides you with a healthier living environment. Simply vacuum and mop weekly, and keep the floor dry — that's it! Our reputation in Anchorage and Wasilla for our hardwood floor installation is second to none. We are confident enough to encourage you to compare our products and services with any other Anchorage and Wasilla hardwood flooring company. We know that we offer the best products for the best price in comparison with other Anchorage and Wasilla hardwood companies.
Solid Hardwood
Solid wood is milled from a single 3/4" thick piece of hardwood. Because of its thickness, a solid hardwood floor can be sanded and refinished over several generations of use. Solid wood flooring expands and contracts with changes in your home's relative humidity. Normally, installers compensate for this movement by leaving an expansion gap between the floor and the wall. Base molding or quarter round is traditionally used to hide the extra space.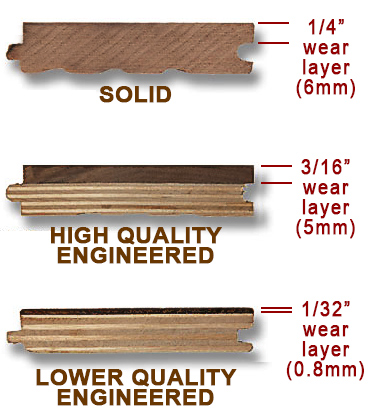 Engineered Hardwood
Engineered wood is produced with three to five layers of hardwood. Each layer is stacked in a cross-grain configuration and bonded together under heat and pressure. As a result, engineered wood flooring is less likely to be affected by changes in humidity and can be installed at all levels of the home.
Hardwood flooring is available in many different species and constructions. Depending on its application, your choices may be limited to a specific construction type. If you plan to install over concrete, you must use an engineered product to ensure structural integrity. Solid wood flooring or engineered flooring may be used over plywood, wood, or OSB subfloors. If you are considering flooring for a bathroom where continuous moisture is expected, you will want to select a product other than hardwood. While the moisture resistance of an engineered hardwood makes it suitable for rooms below grade or ground level when installed with a moisture barrier, it is not advisable to install any hardwood flooring in a bathroom. Come talk to the experts at our store in Anchorage or Wasilla.
Bamboo Flooring
Environmentally friendly Bamboo Floor is a quality material which is suitable for homes, hotels, restaurants, office buildings and various recreational centers.
Solid, engineered or floating Bamboo is renewable and sustainable and is an attractive hardwood floor with a hardness similar to oak. It's usually sought either for its attractive appearance, or for its appeal as an eco-friendly flooring option. Natural bamboo floors have a light wood color, similar to beech, but can be processed for darker colors that can be indistinguishable from other hardwoods. You can find dark bamboo flooring and black bamboo flooring that works well in a more formal room. Solid bamboo flooring is a great option for many different rooms in your home. Bamboo is a highly renewable resource.
How Does It Compare To Wood Flooring?
Bamboo is an average of 13% harder than maple. Compared to northern red oak it is 27% harder, and expands and contracts 50% less.
Why Choose Bamboo?
Environmentally friendly - Bamboo is a grass, not wood. Bamboo produces new shoots each year and is individually harvested from controlled forests within 4 to 5 years, or it will fall over and be unable to grow.
Elegant, Natural Beauty - The distinct grains provide the elegant pattern which is not only unique, but can compliment any decor.
Durability and Sturdiness - Bamboo flooring is extremely durable. It is as hard as maple and 50% more stable than red oak.
Ease of Installation and Maintenance - Tongue and groove bamboo flooring can be installed in the same way as regular wood flooring, either floated or nailed.
Affordability - Bamboo flooring is more affordable than you would expect for such a high quality product.
Our flooring stores in Anchorage and Wasilla provide you the best bamboo flooring product available.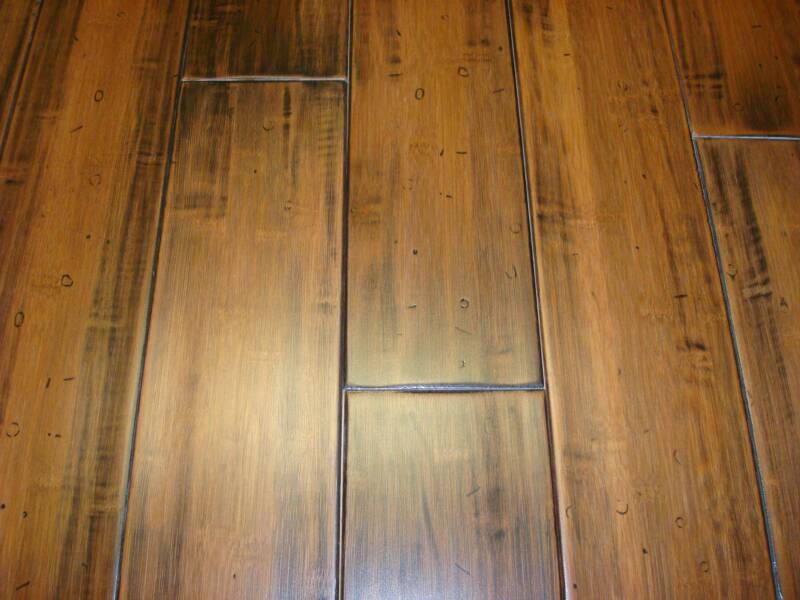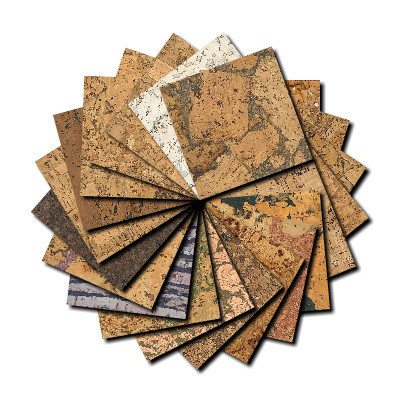 Exotic Cork Floors
Comfortable, sustainable and available in many desirable looks, cork has a lot going for it. Although cork floors have soared in popularity over the past decade or so, they've been around for a long time. Natural cork comes from the bark of cork trees, found mainly in southern Europe and northern Africa. Cork is another highly renewable resource. The trees regenerate their bark after it's harvested over time. If there's an allergy sufferer in your home it is naturally hyper allergenic and fends off mold, mildew, rot and pests. You'll adore its natural variations in tone and texture, which add a richness and depth to your floor.
Is Cork Right For You?
Cork is an environmentally sound choice for flooring.
The cork oak tree is not destroyed and then replanted but rather the bark is trimmed from the tree every 9 years, leaving the tree and the forest undamaged. It is not unusual to have a 200 year old tree still producing cork bark. Cork flooring is actually made from the waste of the cork wine stopper manufacturing process so cork flooring is a recycled product.
Cork Flooring offers simple, fast glueless installation and easy maintenance. Quality features make this flooring perfect for residential and light commercial applications. The 100% cork surface layer is UV acrylic finished and provides significant acoustic insulation. Cork Flooring can be installed over most other flooring materials. Cork is not recommended for brightly sunlit areas. Our stores in Anchorage and Wasilla provide you the best cork flooring products available.
Contact us for the best deals in flooring